EU nations have privately urged the Ukrainian leader to end the fighting, a US official told the veteran journalist
Poland is leading a group of European nations that are secretly urging Vladimir Zelensky to find a way to settle the conflict with Russia, veteran journalist Seymour Hersh has reported, citing a "knowledgeable" American official.
According to US intelligence, other EU countries that want to see an end to the fighting include Hungary, Germany, the Czech Republic, Lithuania, Latvia and Estonia, Hersh wrote in an article published on his Substack page on Wednesday.
"Hungary is a big player in this and so are Poland and Germany, and they are working to get Zelensky to come around," the unnamed official claimed. Those countries have made it clear that "Zelensky can keep what he's got if he works up a peace deal even if he's got to be paid off, if it's the only way to get a deal."
By "keep what he's got," the source was referring to the Ukrainian president's villa in Italy and interests in an offshore bank, Hersh clarified.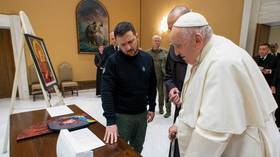 However, Zelensky has so far rejected the proposal, while other major European players – France and the UK – "are too beholden" to the Biden administration, which is continuing to back the Ukrainian leader, the official said.
One of the main reasons why Poland and the others want the conflict to end is because the burden of accommodating Ukrainian refugees has become too much for them, the Pulitzer Prize-winning journalist wrote.
The problem for those countries "is how to get the US to stop supporting Zelensky," Hersh's source suggested.
He claimed that US intelligence is well aware that "Ukraine is running out of money and… that the next four or months are critical. And Eastern Europeans are talking about a deal."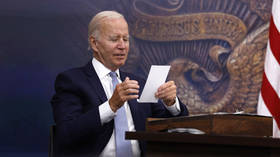 However, he added that "it's not clear to the intelligence community what the president and his foreign policy aides in the White House know of the reality."
The US is "still training Ukrainians how to fly our F-16s that will be shot down by Russia as soon as they get into the war zone. The mainstream press is dedicated to Biden and the war, and Biden is still talking about the Great Satan in Moscow while the Russian economy is doing great," the official explained.
Russia has repeatedly stated that it's ready to resolve the conflict at the negotiating table. However, it did not receive any proposals from Ukraine and its Western backers that it could consider reasonable.
Zelensky has been promoting his ten-point peace plan, which calls for Russian forces to withdraw to borders claimed by Ukraine, to pay reparations, and to submit to war-crime tribunals.
Moscow has rejected the plan as "unacceptable," saying it ignores the reality on the ground and is actually a sign of Kiev's unwillingness to solve the crisis through diplomatic means.