Russia's action is being interpreted as a response to seizures of its property in the EU
Russia froze the accounts of Finland's diplomatic missions on its territory, the Finnish foreign minister said on Wednesday.
Accounts belonging to the Finnish Embassy in Moscow and to the Consulate General in St. Petersburg were frozen on April 27, Pekka Haavisto told a press conference, adding that in early May Finland contacted Russian authorities about the matter but no explanation has yet been received.
Finland's diplomatic mission will now have to settle its payments such as rent and bills in cash or through a Russian bank that would agree to remove the restrictions.
Salary payments to employees have not been affected and the Finnish embassy and consulate will continue operations in Russia despite difficulties with money flows, Haavisto added.
According to Finland's most senior diplomat, Russia's actions are related to EU sanctions against Russia and its banking sector.
The freezing of the Finnish diplomatic accounts in Russia was reported earlier by newspaper Helsingin Sanomat. The outlet cited an email from the foreign ministry in Helsinki which described the situation as "serious."
The Finnish diplomatic mission has had its access to banking services restricted on a reciprocal basis, news agency RIA Novosti reported, citing the Russian embassy in Helsinki. According to Russian diplomats, Moscow has repeatedly warned its neighbor of a possible retaliation, after Finland froze the account of the Russian Center for Science and Culture at national bank Nordea in March.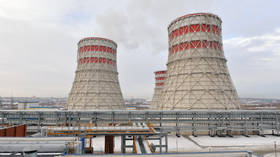 In late April President Vladimir Putin signed a decree establishing a mechanism for temporarily taking over foreign assets in Russia in the event of other countries seizing Russian private or government property based in their jurisdictions, or of a threat to the national, energy, or economic security of Russia.
Billions of euros worth of state assets and property belonging to Russian business people and officials have been frozen in the EU since last year, as part of a sanctions campaign against Moscow over its military operation in Ukraine.
In January the Finnish Ministry of Foreign Affairs was reported to have frozen €187 million (over $202 million) worth of Russian assets such as real estate, shares, cars, yachts, and aircraft.
Last week Russian border controls reportedly started to cancel the visas of Finnish citizens trying to enter Russia to go shopping and buy cheaper fuel for their cars.
For more stories on economy & finance visit RT's business section
You can share this story on social media: