Marie-Agnes Strack-Zimmermann, chair of the Bundestag's defense committee, cited complex pilot training as an impediment
Germany will not deliver fighter jets to Ukraine, the chair of the Bundestag's defense committee, Marie-Agnes Strack-Zimmermann, has stated. The lawmaker stressed, however, that Berlin had already given the green light along with several other NATO members for the transfer of older, Soviet-designed military aircraft to Kiev.
Speaking to the Deutschlandfunk radio station on Tuesday, Strack-Zimmermann stated that she "and most of my colleagues said relatively early on that I don't see Tornados or Eurofighters in Ukrainian airspace." The lawmaker then cited the complex training that would be required for Ukrainian pilots to operate the warplanes.
In contrast, Soviet-designed fighter jets sourced from former Eastern German stockpiles have proved to be more useful, she claimed.
Strack-Zimmermann suggested that if Ukraine were to be supplied with US-made F-16s, it would be a considerable contribution, although she noted that Berlin does not operate this type of aircraft.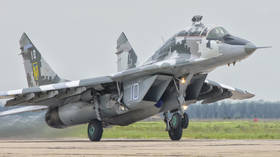 According to the lawmaker, Germany is doing all it can to support Ukraine militarily, but cannot be expected to provide the full range of weapons that Kiev requires.
On Sunday, Politico cited an anonymous staffer from French President Emmanuel Macron's office as claiming that any discussion of Western fighter jet deliveries to Ukraine is "a bit premature."
During a visit by Ukrainian President Vladimir Zelensky to London on Monday, British Prime Minister Rishi Sunak pledged more military aid, including a program aimed at honing the skills of Ukrainian fighter jet pilots. According to a statement, the initiative will go "hand in hand with UK efforts to work with other countries on providing F-16 jets."
Ukraine has increased its calls for Western-made military aircraft in the past several months, although those requests have yet to be granted. Several NATO member states have provided Ukraine with Soviet-designed fighter jets instead.
Russia has repeatedly warned Western nations that by providing Kiev with more advanced weapons, they risk getting dragged into a direct military confrontation. Moscow has also insisted that no amount of Western military aid will deter Russia from achieving its goals in Ukraine.
You can share this story on social media: